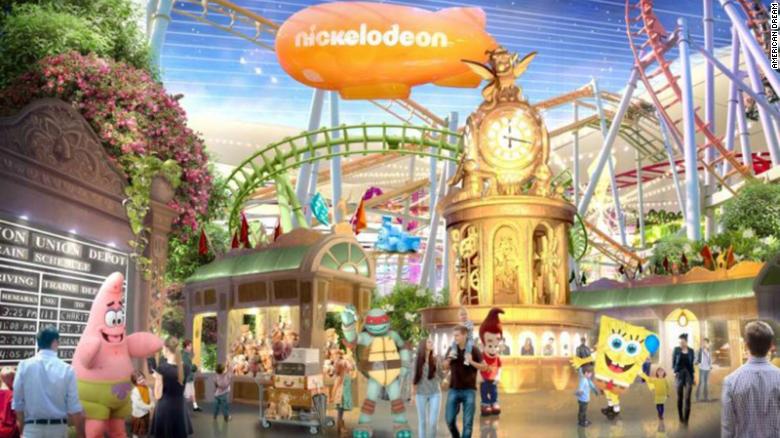 After several years of construction, the largest indoor theme park in North America will be opening in New Jersey on Friday. It will be located in East Rutherford, New Jersey and will be themed to Nickelodeon.
The park will be 8.5 acres and will feature over 35 rides and attractions including multiple different types of roller coasters. There will be plenty of walk around characters and meet and greet from favorite Nickelodeon franchises such as Spongebob, Jimmy Neutron, and The Fairly Odd Parents. Some of the rides and coasters are themed to properties such as Spongebob, Dora the Explorer, and Teenage Mutant Ninja Turtles. The latter's roller coaster is expected to have a massive for and indoor park 122 ft drop! There seems to be plans for multiple inverted coasters as shown in the concept art.
Pricing for the park for a general ticket is $39.99 and for the all access pass it is $49.99 and children under 2 are free. Tickets for Friday are being sold in 4 hour time slots and are all sold out as of this writing. I am not sure if everyday tickets will be sold in 4 hour time slots or of that is just an opening day occasion.
Opening weekend hours are 10am-6pm Friday and 9am-10pm Saturday and Sunday. Regular operating hours are 9am-10pm Monday through Thursday and 9am-1am Friday through Sunday.
Parking rates are as follows: 0-29 min is free, 30 min is $3, five hours is $4, six hours is $5, seven hours is $6, and finally eight hours is $24. Valet is a $10 parking fee.
This theme park has been in the works since 2003 and is part of the 3 million square foot American Dream Mall that is also opening in conjunction with the park. New Jersey won't have the title of having North America's largest indoor theme park for long though as the same company. Triple Five Development, is building an even larger mall and indoor theme park down the road in Miami, Florida set to open in 2023.
What do you think of this new indoor theme park? Will you be booking a flight to make a visit? Let me know in the comments below!